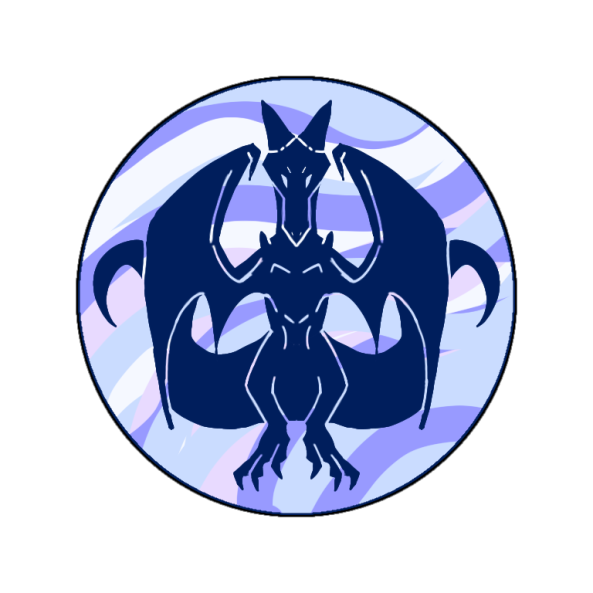 Alternative Names
Team Arcane is a Gold Rank Rescue Team and one of the well known teams around Pokemon Square. The team is more beast-based despite the Other Owner being a docile, appearing Pokémon.
Their Emblem is a pearlite, wispy swirl with an unknown, dragon shaped Pokémon in the front in dark blue. The emblem usually appears on their medals, satchels or even sometimes on the pokemon themselves depending on what they feel is comfortable.
Base
The base currently is inspired by a Totodile and appears to be a totodile head with windows as eyes and an open mouth that leads to a door.
Action
Team Arcane is semi-behind on outside schedule due to the founders being on a false accusation, causing them to be refugees for a long while. This only lasted until Snaps and Blossom uncovered the truth and everything returned back onto Gengar.
Though compared to their rescues for their members, the team is always persistent, never giving up on saving their comrades and allies. This is the main positive aspect of the team and shows their Persistence and Strength.
On the outside is the exact same, but there is no high need to re-enter a dungeon because their requests are still normal and easy.
History
Team Arcane was a small, 2 party Rescue team started by Snaps and Blossom during the Calamity era. After getting a few requests, the team has grown far and gained multiple members both great and new.
Eventually the team evolved into an entire rescue guild in Northern Heights
Sub-sections
As time passes and more Pokemon join, Team Arcane has begun to split into subsections, each with at least 3 members of a team. So far the sub-sections are separate teams but sub-rescue teams are beginning to be a possibility in the future.
Original Three
The three that went through the most trouble and are closets together. Consists of Snaps, Blossom and Hyena. There isn't a specific instructor but Snaps is looked to for actions and advice.
Lifetime Veterans/Champions
The second team that was on Arcane and the team that usually would rescue the Original Three out of danger. The team consists of Spenctail, Absol, and Buzz and originally included Hyena in the beginning times.
Super Wings
The Super Wings contain all 3 legendary birds, Igneous, Nimbus, and Cumuloni, Nimbus being the head-chief. They usually solve more advanced, rigorous related missions.
Although not apart of Arcane, the Great Canyon Bug Tribe has given aid for missions in the Great Canyon or other deep, surface areas like Pitfall Valley and Southern Cavern. Their leader is Andromeda.
Weather
Currently a single partied team however, the Weather Section is ran by Orca at the moment and he pleads to be peaceful with Groudon upon joining. So far, the Weather Team only does average hard dungeon missions.
Birds of Prey
The Birds of Prey include Raven, Crow, and Billsbeak. They take care of missions within the skies or that contain Magnitude, Earthquake or Earth Power Pokemon like Magma Cave, Sky Tower and Northern Range.
Feathers of Secret
To not confuse with Birds of Prey, Feathers of Secret was originally a separate team before fusing with Team Arcane and consists of Sugarglider, Lady Knoco and Burmese. The three enjoy handling dark or treasure holding areas.
Dragons of the Century
As it names says, this team includes entirely of dragon types, Focus as their leader, Aness and Aviator. They control any medium or dragon dungeons like Wyvern Hill.
Members
Here are a list of members in the group and their ranks.